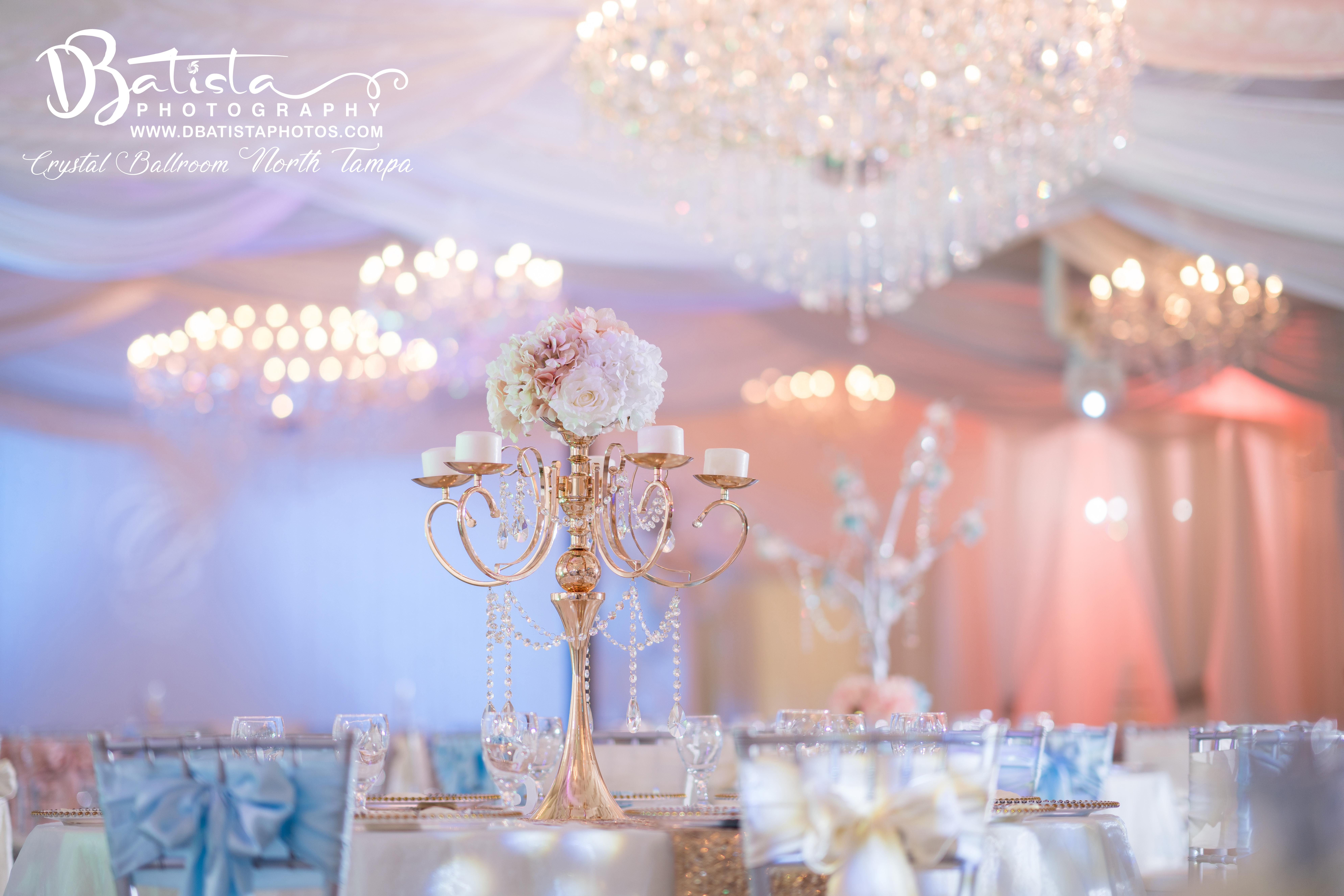 EVENT DESIGN SERVICES
THE CRYSTAL BALLROOM EVENT DESIGN SERVICES
Crystal Ballroom Design Services Is what we are all about.  Our high standards of excellence, instinctively, do not allow us to outsource such a crucial and fundamental piece of your event planning. Our reputation lends, that we know how to create a magical and extraordinary event planed specifically to your design tastes and color pallet preferences. Many planners struggle to find the perfect combination of a design team and a design selection to suit his/her needs. Selecting designs and decorations, as well as, employing a team to apply them, Can be challenging and stressful, especially for a "first time" party planner. This is, do in part greatly, to the limited resources and services available Florida's wedding industry and Market. Great News! The Crystal Ballroom can save you time, money and hassle headaches when it comes to creating the perfect event for you and your guests. We design and decorate each one of our events from the top to bottom. We provided all these extraordinary services at no additional cost to you for our home one of kind designs. Upgraded décor is always available. Our in house designers will take you to will take you to magical land of dreaming instead of stressing. We got you and your day in mind! Welcome to the Family.
Event Design Services in Orlando

Make your next event one to remember with The Crystal Ballroom's event design services. Every color option imaginable is available to you for your event decor, as well as several different styles of centerpieces to choose from. In each design package, you get your choice of color for chair sashes, table runners, organza overlays, and napkin colors. We also include votive candles, charger plates, flower petals, and jewels in several different styles and multiple colors. Each centerpiece sits on top a gorgeous beveled mirror while our jewel-studded table numbers add a dash of class.
The Crystal Ballroom would love to design and decorate a banquet hall for your upcoming work celebration, wedding, or other important event. Design packages are included in every Crystal Ballroom Event Package at no additional charge.

Crystal Ballroom Design Services by Location
Casselberry: 407-681-2710
Altamonte Springs: 407-865-7144
Orlando: 407-757-2975
Daytona Beach: 386-301-4040
Tampa Bay: 727-698-4993
Clearwater: 727270-7066
Fort Lauderdale: 407-501-1909
St. Augustine: 904-907-4767
2017-2018 Event Decor Special Package-Offsite Design and Decor Package:
Reception decor for up to 100 guests. $3000
Ceremony decor for up to 100 guests. $300
Ceremony/Reception backdrop/3-panel. $500-lighting included
VIP event canopy w/ crystal chandelier. $800-not sold separately 
Uplighting/ (10) 60 Par LEDs. $300-not sold separately
Chair covers. $2-$4 per piece
---
Servicing Florida State
Crystal Ballroom Venues